The Nancy Julian Distinguished Young Woman Award was established by the Junior League of Anniston-Calhoun, Inc., in 1996. It honors the memory of Nancy Julian, a very active member of our League and community.

The award is presented each year to an outstanding high school senior who has maintained an excellent academic record and has displayed a willingness to serve her school and community through volunteerism and extra-curricular activities. At the present time, our League is awarding the winner with a $3,000.00 scholarship to the college she will be attending.
We partner with the Community Foundation of Northeast Alabama for application submission.
The 2023 Nancy Julian Distinguished Young Woman Award recipient is Miss Savannah Helms from Oxford High School.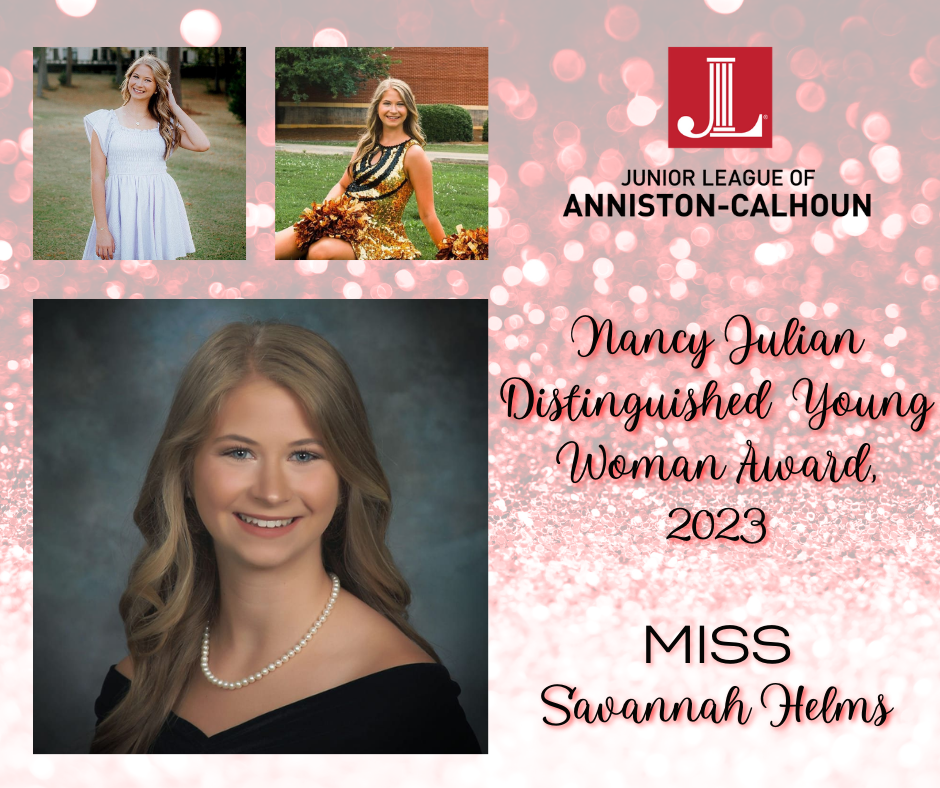 Past recipients of the Nancy Julian Scholarship



1996 - Marla Hawkins
1997 - Erin Kathleen Cowan
1998 - Lee Haynes
1999 - Kelli Carpenter
2000 - Kimberly Merrill
2001 - Jessica Garner
2002 - Megan Locklear
2003 - Brenna McGuffey
2004 - Shelby Pope
2005 - Amy Anderson
2006 - Anna Lee Haynes
2007 - Evelyn Griffen
2008 - Holly Ann Borden
2009 - Logan Byars
2010 - Hillarie Poole
2011 - Amanda Wells
2012 - Savannah Gardner
2013 - Adele Fink
2014 - Kaelin Cobb
2015 -
Madelynn Barker
2016 - Haley Cotton
2017 - Korie Burgess
2018 - Lauren Cobb
2019- Karlita Reese
2020- Laney Smith
2021- Chloe Cater
2022- Griffyn Burrage
2023- Savannah Helms